Why Start From Seed?
Savings! The cost of buying a packet of seeds versus buying transplants is quite significant. Depending on the seed, you have the potential to start 30 or more plants from a seed packet for $4.99, compared to getting 6 transplants for $6.99. If you want to grow a lot of plants, it's cheaper to buy seeds than starts.
More control. You get to choose your materials, soil mix, fertilizer, and watering schedule, as well as be in control of the growing environment.
More diversity. There is a broader selection of plant varieties when choosing from seed than there will be from what's available as transplants. The possibilities are endless!
It's exciting, magical & rewarding! It's really one of the best feelings in the world to start a plant from seed. There are so many wonderful feelings, thoughts, and experiences that are discovered through the process of growing plants from seed.
When is the Best Time to Get Seeds?
January is a great time to buy seed because new seed is stocked on the racks. Here in Oregon's Willamette Valley, January and February are also the months when many spring vegetables should be started as seed indoors so that you can transplant when temperatures begin to rise in March.
This is also a great time to plan your garden. When buying seed, take into consideration the mature plant size, and days to harvest.
Our friendly and knowledgeable staff are happy to help with your seed starting questions so we can assist in guiding you to varieties that will fit your plan.
What Supplies are Needed?
Pots
Jiffy pellets are easy to use and great for large seeding projects. Use of peat pots, coir pots, tray pack and plug trays, or plastic pots are all good options for starting seed. It may just depend on your personal preference or the amount of seed you're starting.
Seedling Mix
It is important to start seeds in a sterile seedling mix because the delicate roots of a seedling are not yet equipped to take on the microbial richness of potting soil.
Light
If you don't have adequate lighting, then the use of LED lights would be beneficial as most vegetable and herb seeds need 6 to 8 hours of direct light to grow.
Use blue, daylight spectrum lightbulbs for seeding and orient the light bulb to be at least 6″ above the pots when starting and adjust the height as needed to prevent burning of the new leaves. Adjusting the light closer to the pots will also help to prevent the plants from having to reach and stretch for the light which results in them growing floppy long stems, aka getting "leggy".
Other Helpful Supplies
Other beneficial supplies to have are a heating mat, seed starting saucer tray, labeling tags, and a good watering can with a narrow spout for easy and efficient watering. Depending on your seed starting setup, all or some of these items could make all the difference to your success and our helpful staff is here to guide you to what will work best for you.
Fertilizer
Don't forget to fertilize! When seedlings develop their first 2 true leaves, feeding with an all-purpose liquid fertilizer will give them a boost to get to their next stage of growth.
What Plants Can I Start Now?
It is a bit too cold outside to direct sow many vegetable seeds in the garden, but now is the ideal time to start your own transplants inside from seed.
It is important to consider when you are actually ready to put them in the garden. Plants in the cole crop group resent handling almost as much as they do being left in the tray too long, so don't wait too long to transplant and do it gently. Tender plants like tomatoes and peppers will need to be potted up a size or two before transplanting outdoors.
Vegetable plants you can start now:
Cabbage, Cauliflower, Broccoli, and Kale (cole crops): Ready to plant out in about 6 weeks. Rather cold hardy, sow seed in February to transplant in March- April.  Plant very gently, before roots emerge through the bottom of the pots.  Dis-likes being potted up.
Onions and Leeks:  Ready to plant in 8 to 10 weeks. Cold hardy, sow seed in January or February for transplanting March-April. They plant much better if you don't wait much past the ready date.
Lettuce: Ready in 4 to 5 weeks.  Rather cold hardy, sow seed in February to plant in March.  Better resistance to bolting if you don't let them get root-bound.
Eggplant: Ready in 8 to 10 weeks.  Sow in March to plant out late May at earliest – one of the most cold-sensitive.  Can be potted up before planting.
Peppers: Ready to plant in 10 to 12 weeks, sow seed in January or February for planting late May. Can be potted up before planting.
Tomatoes:  Ready to plant in 6 to 8 weeks, sow seed in February or March for planting late May. Can be potted up before planting.
View our complete Seed Starting Schedule.
How Do I Get the Seeds Started?
Watch these short videos to learn more about the various seed starting supplies that will help you be successful.
From tray packs to heating mats, you'll learn that there are a  combination of ways keep your seedlings organized, and give them the very best start this season!
Watch this video for a quick overview of our seed starting supplies: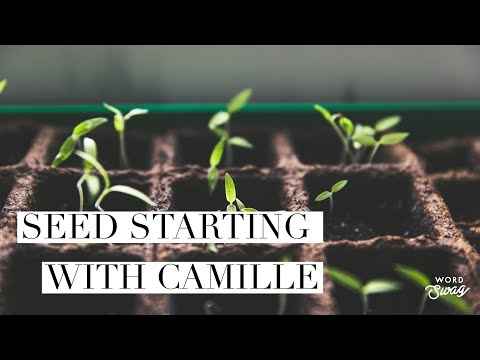 Watch this video for a deeper dive into when, how, and what to do to successfully start your plants from seed: